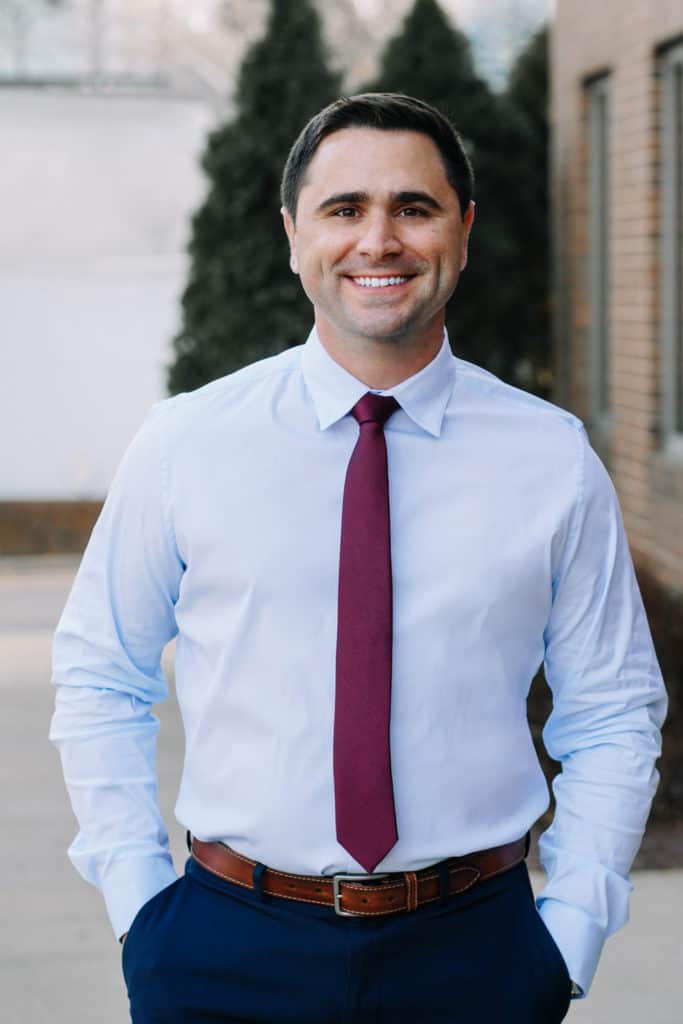 Dr. Andrew Hinkle
Dr. Andrew Hinkle is a native of the Washington DC area, growing up in the McLean community where he now practices dentistry. After attending Gonzaga High School in Washington D.C., Dr. Hinkle completed his undergraduate degree in Biology with a concentration in health care ethics at Villanova University. In 2011, he received his dental degree from the University of Maryland Dental School where he completed an oral surgery clerkship focusing on oral maxillofacial surgery and implant dentistry. Upon graduation, he joined his father, Dr. Alan Hinkle, in his established dental practice. In 2018, Dr. Alan Hinkle retired and Andrew has continued the tradition of a practice renowned for its integrity, comprehensive care, and devotion to the patients.
Dr. Hinkle continued his postgraduate education at the prestigious Kois Center in Seattle Washington. The Kois Center is a postgraduate didactic and clinical continuing education program with the goal of improving the lives of patients by providing dentists with predictable, evidence-based dental strategies that enable them to deliver the highest level of patient care. After years of education, training, and clinical work, Dr. Hinkle has recently achieved the level of Mentor at the prestigious Kois Center! In order to achieve this, Andrew attended 13 different courses learning how to deliver the latest advances in esthetics, implants, and restorative dentistry. In 2018, Andrew completed the course curriculum and was recognized as a Graduate. While this was an excellent achievement, Andrew did not stop there and elected to pursue a higher level of education and strove to reach the level of Mentor. Kois Center Mentors are graduates who display a thorough and working knowledge of the complex dental concepts and methods. By completing the requirements for mentor status (written examinations, oral presentations, and case presentations), future students within the Kois Program can look to Andrew for guidance and instructional advice as one of the preeminent dental authorities within the curriculum.
Through his skill, tenacity, and commitment to excellence, Andrew, in becoming a Mentor, has achieved what fewer than 200 dentists in the entire country have done.
Along with his dedication to dentistry, service to the less fortunate is an integral part of Dr. Hinkle's life. Providing compassionate care to all is a driving force behind his passion for dentistry. Dr. Hinkle has worked with Habitat for Humanity and has made numerous international service trips to Mexico, Guatemala, Costa Rica, the Dominican Republic, and the Philippines. Locally, he volunteers at the Northern Virginia Dental Clinic, a clinic dedicated to helping the less fortunate. Optimal oral health plays a vital role in each individual's well-being, and Dr. Hinkle considers himself privileged to be able to provide dentistry to those in his community and beyond.
Dr. Hinkle is committed to educating his patients, listening to their concerns, and encouraging questions. He excels in esthetic and restorative dentistry and is dedicated to creating individualized, gorgeous smiles. Whether it is general care, a smile makeover, or a full-mouth rehabilitation, Dr. Hinkle thrives on making people feel confident and empowered by their smiles. Through his use of state-of-the-art dentistry and a gentle touch, Dr. Hinkle's patients enjoy beautiful, healthy smiles for a lifetime.
Residing in McLean, Dr. Hinkle enjoys cycling, golf, sailing and traveling.  Mostly he loves spending time with his wife, Amy, son, Henry, and daughter, Lucy.
Affiliations: